Recycling Depot Relocation
The New Westminster Recycling Depot is now closed. New Westminster will join the new Metro Vancouver regional transfer facility being built on United Boulevard in Coquitlam anticipated to open in early 2021. 


Recycling and waste engagement - Spring 2020
Thank you to everyone who completed our online survey and participated in the drop-in dialogue sessions between February 4 and 11, 2020. The survey closed on Feb. 17. 
 
Pop-Up Recycling Events
To accommodate the recycling needs of resident during the transition period, the City of New Westminster will be offering a series of one-day recycling events.
Click here to view upcoming recycling event dates.
Alternate Recycling Locations
There are several private recycling locations in New Westminster where residents can take their recyclable items not accepted curbside. Click here for a list of locations. 


Background
Metro Vancouver is currently constructing a replacement facility for the Coquitlam Transfer Station at the old Coquitlam landfill site. The new facility will be located at 995 United Boulevard in Coquitlam.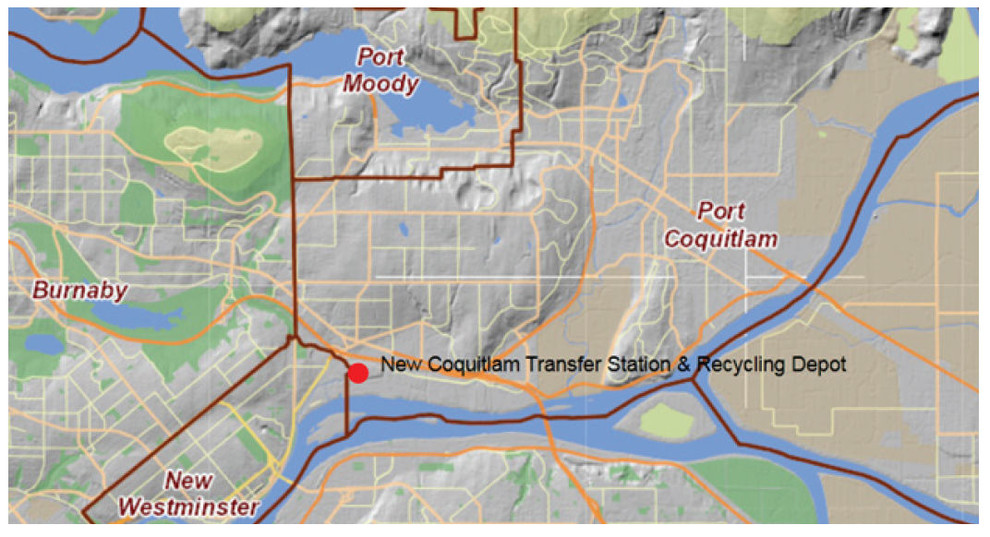 As part of the new regional transfer station, an expanded municipal recycling depot is being constructed and funded by the Tri-City communities of Coquitlam, Port Coquitlam and Port Moody. Metro Vancouver extended an invitation to the City of New Westminster to participate in the new depot, and New Westminster will join the new facility when it opens for operations in 2020.
The new regional recycling depot/transfer station will provide a convenient one-stop drop for free recyclables and reusables such as beverage containers, books and clothing, electronics, metal, household hazardous waste, yard trimmings, etc., and paid recyclables such as mattresses as well as non-recyclable garbage.

Metro Vancouver research has shown that providing one-stop drop-off facilities substantially reduces the amount of recyclables disposed of with garbage. Transfer station users overwhelmingly support the provision of recycling services at transfer stations.

The relocation of the facility also allows for an ideal site configuration of the new aquatics and community centre facility.
Metro Vancouver Regional Transfer Station

Design concept only

Design concept only

Facility overview & Features
The new transfer station will be a full-service waste and recycling facility serving commercial and residential or small business customers.
The transfer station will be open 363 days a year, serving about 200,000 customers.
The facility will include dedicated recycling traffic lanes.
Acceptable Recycling Items:
Batteries
Beverage containers
Books (for donation)
Cellular phones
Clothing (for donation)
Cooking oil
Corrugated cardboard
Electronics
Expanded polystyrene
Glass containers
Gasoline
Lamps and light fixtures
Metals: Scrap metal, appliances, power equipment
Oil filters
Paint products and solvents
Recyclable paper
Pesticides
Plastics
Plastic film and plastic bags
Propane tanks
Small appliances & power tools
Smoke and carbon monoxide alarms
Thermostats
Yard trimmings
Mattresses
New gypsum
Financial Implications
The Tri-Cities communities, including Coquitlam, Port Coquitlam, and Port Moody, have all agreed to participate in funding the new regional recycling depot. The overall annual estimated cost for land, operating and capital expenses for the depot is $295,000 per year.

Based on a funding model that apportions 50% of the cost on population and 50% on use, New Westminster's cost would be $44,000 per year. In comparison, 2017 operating expenses at the City's recycling depot were $113,000.  Usage data is based on customer surveys of the depot at the current Coquitlam Transfer Station over the last three years.

Alternative Considerations & Options
Alternative depot locations have also been considered within the City. Given the high cost of land, relative proximity to private recycling facilities, and the breadth of our residential recycling and organic green waste collection programs, it is not cost effective to establish a new recycling depot within city limits.

Depot User Surveys
User surveys were conducted at the recycling depot where approximately 200* patrons were questioned as to their frequency of use and their neighbourhood of residence.
77% of respondents frequent the New Westminster Recycling Depot regularly, making a trip at least once per month, 56% of respondents reside within close proximity to the current location with more than one quarter of all respondents living in the Queen's Park neighbourhood alone. 
*Staff had difficulty finding new participants to take the survey after a period of months of surveying as most visitors they questioned had already been surveyed.
Additional Information
Council Report - April 8, 2019

Contact
For more information, please call 604-526-4691 or email .