Digital Sign Relocation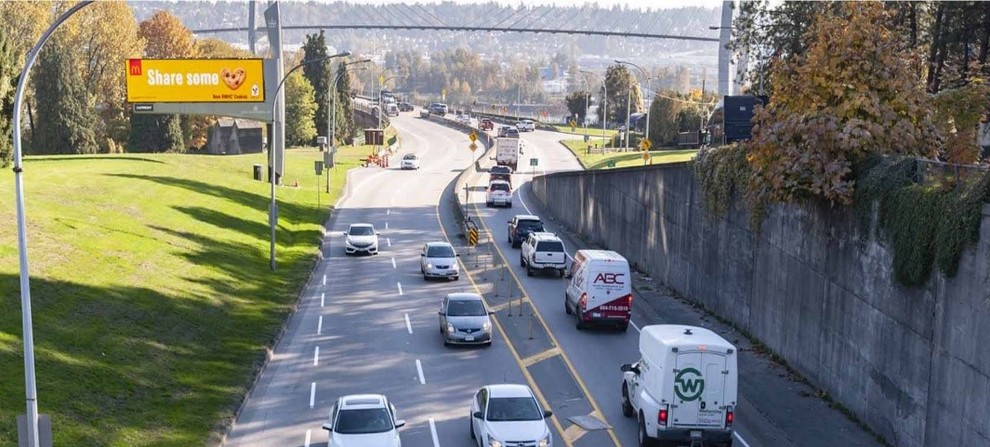 As part of the Pattullo Bridge Replacement Project, the existing digital sign at the north bridge head of the Pattullo Bridge, on the east side of McBride Boulevard, must be relocated prior to October 31, 2020 to accommodate bridge construction.
The sign will be relocated approximately 310 meters north on McBride, just north of Royal Avenue. This sign will be consistent in height with the existing sign and roughly at the same height as the adjacent streetlights. The new location will retain the existing sign's design features, and the LED screens will be directed away from residential properties.
To ensure the sign integrates well in the new location, a variety of studies have been conducted. A light intrusion study conducted by the sign operator, Outfront Media, concluded that light measurements from the sign are comparable to streetlight levels and should not present any impacts to surrounding residential properties. The screens are equipped with ambient light sensors and therefore adjust automatically to dim brightness.
In addition, an environmental review was undertaken to ensure the LED light does not negatively impact wildlife, habitat, trees, and vegetation in nearby Queen's Park. A road safety review has confirmed the new location does not present any hazards to drivers, pedestrians or cyclists.
Work associated with the relocation will begin in early September 2020 and will occur within the hours outlined in the City's Construction Noise Bylaws. The work is expected to take approximately three weeks.
Around the same time as the sign relocation work, three rotating (tri-vision) billboards on McBride Blvd, adjacent to the Royal Avenue overpass, will also be permanently removed. Light trespass will be reduced as these boards are lit by bright, environmentally-unfriendly light bulbs.