Art Services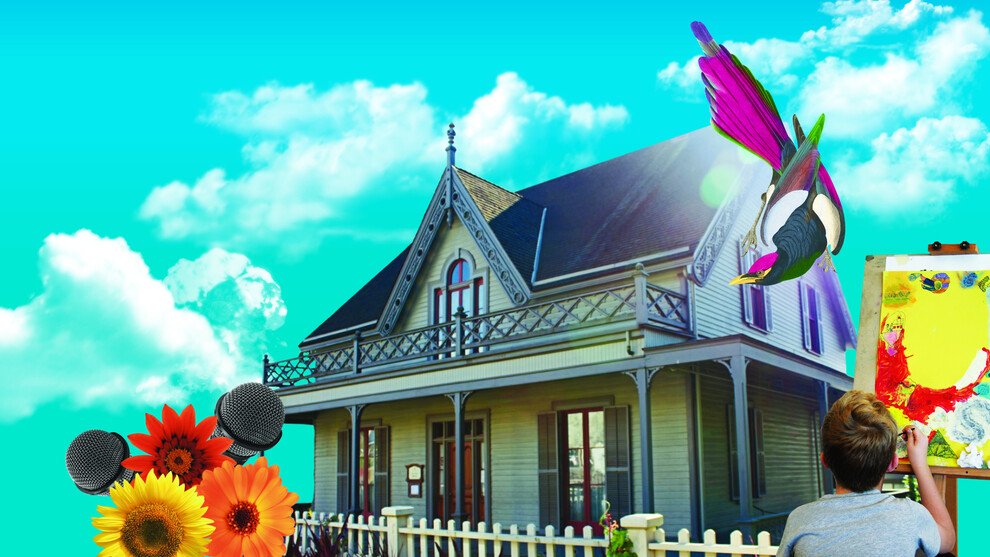 Click Here to See the Spring 2023 Arts & Heritage Brochure
New Westminster encourages and supports arts and culture opportunities to generate and encounter the diverse creative, spiritual, emotional, intellectual and material features of the city and its development. Our goal is to create inspiring, diverse and distinctive art programs, cultivate contemporary artistic discourse, create outreach opportunities and encourage meaningful audience engagement.  Discover the best in contemporary new media art at the New Westminster New Media Gallery, explore public art in your everyday spaces, register for a new art program and discover your passions, or view local artists' work at the Community Art Gallery.
The City of New Westminster Arts Services department offers opportunities for artists, performers, musicians, craftspeople, community members and visitors to experience a diversity of arts and culture activities in our city. Whether through public art installations, Community Art Gallery exhibitions, seasonal programming or special events, our goal is to nurture the growing arts and culture scene of our city.

---

Sign up for the Cultural Services Newsletter, and keep up to date with upcoming programs and events.

We currently do not have any new opportunities.

Please check back.

 

The City of New Westminster is excited to announce a new partnership with the Arts Council of New Westminster, who will take the lead in the development and curation of the annual exhibitions at the Anvil Centre Community Art Gallery in a three-year pilot project starting in 2023.

The Community Art Gallery, located on the third floor of the Anvil Centre, features a rotating series of community exhibitions that support local artists both emerging and established. Exhibiting artists are featured in group or solo exhibitions, as well as curated projects that reflect the interests of the community and align with the City's commitment to equity, social justice, and truth and reconciliation.

Through this partnership, City staff will continue to provide support for scheduling, logistics, and events, while the Arts Council will take over coordinating and curating the annual exhibition program, with both organizations working together to promote the program to artists and audiences. This decision is in alignment with the City's Arts Strategy, which encourages active relationships, unique collaborations and partnerships between municipality, artists, and arts organizations to advance the arts in New Westminster.

The Arts Council of New Westminster is a non-profit arts organization that has operated the Queen's Park Art Gallery for 30 years and implemented a range of satellite programs, such as the annual New Westminster Cultural and New West Craft. The Arts Council has strong relationships with local artists and other local arts organizations; their mission to foster, support, and promote the arts in New Westminster, along with their well-defined strategic plan, aligns with the City's art goals.

For more information on how to exhibit with the Community Art Gallery please contact Arts Council New West at or call 604.525.3244.

The Community Art Gallery is located on the 3rd floor of Anvil Centre, 777 Columbia Street, New Westminster.  Admission is free.

---

Fleeting Moments

Julia Di Sano and Victoria Klassen

January 30 - March 22, 2023

Two distinct bodies of work from two artists who capture the impermanence and fleeting memories of their subject. Both Julia Di Sano and Victoria Klassen, whose inspirations come from different sources, explore the mystery of brief moments in time, of fragmented and fleeting memories that are translated to the canvas as an expression of emotion.

 

---

Upcoming Exhibition

Clarissa Banos and Dan Santa Cruz Siglos

March 27 - May 24, 2023

Artists Clarissa Banos and Dan Santa Cruz Siglos explore the space between the sun, the moon, and the stars in the universe, and its vital role in the creation of life. 

 

---

Past Exhibitions:

Intuitive Art

Art Talks 

ideate

Capture_Light_Exhibition_Poster_2021___2022(1).pdf

Three Visions: Walking in New West

AiR Works by Anvil Centre & Solid Waste/Recycling Artists in Residence

Unity of Spirits: Surprising Screens

ArchiTEXTURE: Hard Edges in a Soft Media

Boulevard Gardens of New Westminster

 

 

Special Exhibition: 4th Floor Hallway at Anvil Centre

Through the Lens: A Photographic Exploration of Inclusion, Exclusion and Belonging in the

Childcare System

 

The City of New Westminster, Art Services Department and Pacific Immigrant Resources Society (PIRS) is excited to announce Through the Lens: A Photographic Exploration of Inclusion, Exclusion and Belonging in the Childcare System opening Saturday, March 25, 2023 at the Anvil Centre.

Through the Lens is a photographic journey created by participants of the "Building A Child Care System That Works for Immigrant and Refugee Women" project. On this journey, they explore their experiences of exclusion, inclusion,

and belonging in the childcare system. These photographs aim to raise awareness about the intersectional access barriers immigrant women face, and propose solutions to ensure an equitable and inclusive approach to building a

childcare system. Touching on stories of discrimination, isolation, resilience, but also joy and empowerment, this photographic exhibition is an open window to connect with community members impacted by the issue and decision

makers driving change in the childcare sector.

 

March 25 - May 1, 2023

fourth floor of the Anvil Centre

777 Columbia St, New Westminster, BC

 

Opening reception: March 25th, 1:00 - 3:00 pm

Art Services does not have any current job opportunities. Please click here for more postings with the City of New Westminster.

 

Please see the City of New Westminster's Covid-19 Update Page for current information about programming and facility closures.  

---

The Anvil Centre has a number of quality and professional community studios and a purpose built music room available to rent. These quality venues are excellent for visual, performing, applied and media arts. In addition, our studios can host workshops, lectures, screenings, rehearsals and drop-in services. 

Please follow this link to see our full list of rooms available.

The City of New Westminster has recently adopted a Theatre Strategy – a guiding document that will serve to align and re-envision how the City's theatre infrastructure can support the continued growth and development of the local performing arts community and creative economy.  The Theatre Strategy is the result of extensive community consultation that began in 2017 during the process of developing the City's Arts Strategy.  Local performing arts stakeholders were actively involved in its development and their input has directly informed the outcome.

The development of the Theatre Strategy is timely, given the planned transfer of the Massey Theatre from the School District to the City in 2020.  It will provide specific direction for the oversight and delivery of services through the City's existing and future theatre infrastructure, including the Anvil Centre Theatre, the Bernie Legge Theatre and the Massey Theatre. 

 


Staff Contact

Staff contact: Todd Ayotte, Manager, Community Arts & Theatre – or 604.515.3822

 
 

Welcome to the fast-paced, fresh, and energy-packed musical world of Kaitlin Deavy.  After a brief career as a mechanical engineer, reporting to NASA and programming brain surgery robots in Toronto, Kaitlin discovered that her passion for music had outgrown her aptitude for math.  She moved to the west coast to immerse herself in songwriting, performing and studying music.  In addition to her Bachelor of Engineering for the University of Guelph, Kaitlin holds a singer-Songwriter Certificate from Langara College, and Diplomas in Music Technology and Music Therapy from Douglas College.

Kaitlin has been teaching private and group guitar, piano, and ukulele lessons for the past 6 years with students ranging from ages 4 to 84.  In addition, she perform live and organizes a wide range of musical events, workshops, and camps across the Lower Mainland, BC.  

When she's not filling the minds of young rockstars with inspiration, you can find Kaitlin dishin out upbeat and humorous folk-rock as the front woman of the Cat Murphy Band.  Her songwriting will bring you to tears, make you dance and make you laugh as she recounts the awkward, painful, and everyday stories of her life and those around her. 

So buckle and get ready to be inspired, entertained or educated by Kaitlin Deavy! 

Anya Olenchenko BCRPA specializes in fitness: Older Adult/Personal & Weight Trainter/Yoga & Pilates Fitness/Aquatic Fitness and Group Fitness. 

She loves what she does in helping others in their fitness journey! She hope to see you in her classes! 

Luca Cara Seccafien is a teacher, artist, and community organizer living on the stolen ancestral territories of the Squamish, Musqueam, and Tsleil-Waututh people.  Luca co-founded and collectively operates an intergenerational and accessible community art space in Vancouver called WePress, where they help bring print-based art activities to communities that lack meaningful access to technical art forms due to systemic oppression.  In their own practice, Luca works with sequential and print based art forms as well as drawing.  Their semi-autobiographical work is influenced by living in a queer, ill, femme body. 

@luca.secca.art

 

 

Jessie Au began her dance training at the age of three studying ballet at Jean M.Wong School of Ballet in Hong Kong.  Upon moving to BC, she expanded her dance training to include tap, contemporary, jazz, musical theatre, and hip hop. A graduate of the University of British Columbia with a Bachelor of Science in Food Nutrition and Health. Jessie has her Fitness Instructor Specialist certification from Canfitpro, TRX Suspension Training certification, Barre Fitness teaching certification and is the Head Coach for the Special Olympics British Columbia Coquitlam Rhythmic Gymnastics program.  Wearing many hats as an arts administrator, dance teacher, choreographer, athletic coach and fitness instructor, Jessie also performs throughout the Lower mainland and dabbles in acting on film and television.  She truly believes that movement is for everyBODY and strives to create a class environment that is inclusive, fun and light. 

Seamus has been working with The Anvil Centre since 2017.  He is a director, playwright and actor who received a BFA in Acting from UBC in 2017.  He is the current Literary Manager of Western Gold Theatre, Senior manager of Events for the Jessie Richardson Theatre Awards, and Director of the Coquitlam Youth Theatre.  His TYA touring products have been seen by over 10000 students in the Lower Mainland.  Recently he was commissioned to write his first Audio play, Persy's Phone which premiered in 2021.  He also wrote Shakespeare's Redux for Art Umbrella.  He also works as an Artist in Residence for the Vancouver School Board.  Seamus worked for companies including Bard on the Beach, The Arts Club, Carousel Theatre for Young People, Boca Del Lupo, Awkward Stage Productions, Promethean Theatre, the Only Animal, United Players and Eternal Theatre Collective.  He believes in fostering creativity and inspiring young people. 

Twitter: @Seamusfera

Instagram: @shakespearhipster

 

Doreen Chand completed a two month intensive training program in India and is certified yoga instructor from a registered yoga alliance school in India. For numerous years she has been a part of the Anvil Centre in leading Prenatal/Parent Baby Yoga, Yin, Meditation and other classes.  For her, breathing exercises is the key to relieving stress.  Yoga teaches us to breathe in a way that we are relaxed and any amount of stress will then not affect us.  Doreen is devoted and very passionate about their practice who welcomes to join her in bringing this enlightened approach to the community. 

 

Pilar grew up in La Paz, Bolivia until, at the age of twelve, her family moved to Whitehorse, Yukon in Canada. There she attended junior high school and had her first painting lessons in Haines, Alaska they lived and painted with artist Sherry Takala at her studio "Noah's Art" during the summer of 1985.

At the age of 17 Pilar moved back to La Paz where after graduating high school she started attending the Academy of Art "Hernando Siles" and later enrolled in the Fine Arts program at Universidad Mayor de san Andres.

Halfway through their studies she once again moved to Whitehorse and eventually found her way to Victoria, BC, enrolled in the Visual Arts program at the University of Victoria and obtained their BFA double majoring in Visual Arts and History of Art in 1998.

In 2001 Pilar moved to Vancouver, B.C. and have been living and working in this beautiful city since.

She pursued further studies at the former Art Academy of Vancouver, Langara College where she attended painting classes with Paul Chizik, at the Gage Academy of Art in Seattle, USA where they studied drawing and painting under Juliette Aristides and most recently she has been blessed to be mentored by master sculptor David Robinson. 

Pilar has been exhibited in La Paz, Bolivia, Victoria, B.C, Vancouver, B.C., Kelowna, B.C.  and Calgary, A.B.

@pilarmehlis

@pilarmehlisart:

Riette  grew up in Ontario and Quebec and has lived in Vancouver for the last 40 years. She graduated from Capilano University as a Graphic Designer and Illustrator, now retired, she enjoys sharing her wealth of knowledge to teaching drawing and painting in watercolour. Also brings a sense of humour and lots of encouragement to her classes be it Beginner's, Intermediate or Advanced Classes.