Irving House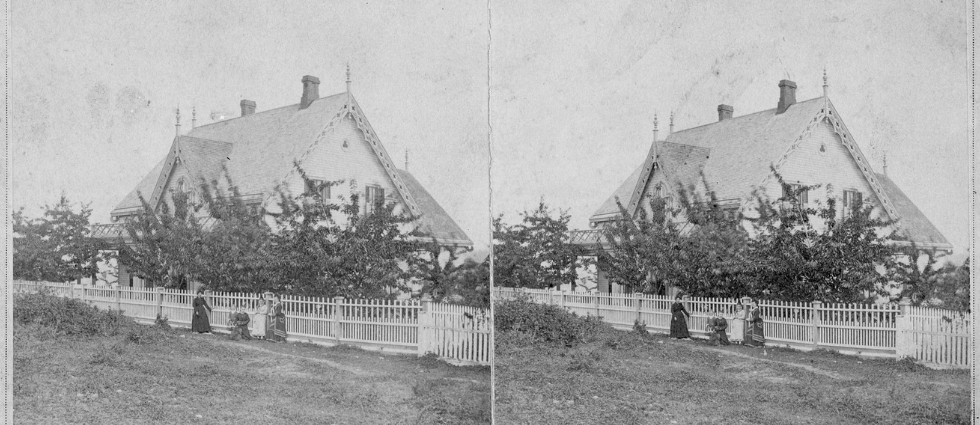 ---
Written Tours
We are pleased to offer written tours of Irving House in the following languages:

The Irving House script is translated by our wonderful volunteers. Please refer to the volunteer section of our website If you are interested in volunteering your time and skills to translate the script into additional languages.
---
About Irving House
Located in the heart of New Westminster, Irving House is one of the oldest community heritage sites in BC. Built in 1865, this Gothic Revival style colonial home belonged to Captain William Irving and family descendants. 

Over 140 years of memories live within Irving House "…the handsomest, the best and most home-like house of which British Columbia can yet boast..." was how Irving House was described in the British Columbian newspaper in April 1865.
With 14 furnished rooms to enjoy, Irving House is a must-see for everyone interested in New Westminster's past and anyone interested in the Victorian and Edwardian periods, heritage architecture or colonial BC. 

During your visit you will see ornate ceiling plasterwork, the glow of original wallpaper, original home items, and the elaborate fireplaces. 
---
SPECIAL PROJECTS - ARTIST IN RESIDENCE
The City of New Westminster Public Art Program is excited to welcome Holly Schmidt and Janet Wang to the Irving House Artist in Residence which began in July and runs until the end of October 2023.
In partnership with the New Westminster Museum and Archives, the Irving House Artist in Residence Pilot invites artists to explore and experiment in response to the site and surroundings of this historic home. Artists are encouraged to investigate the stories and narratives of one of British Columbia's oldest post-contact historic community sites, and to engage in dialogues that deepen a shared understanding of the role of these historic sites in our current context.
The residency aims to support the artists with time, space, resources to further their research, interests and overall artistic practice. It seeks to generate new observations and perspectives, and facilitate meaningful and contemporary public art responses to the understanding place and the overall context of Irving House.
Holly Schmidt is an artist, curator and educator that engages processes of embodied research, collaboration and informal pedagogy to explore the multiplicity of human relations with the natural world. Her work involves the creation of temporary site-specific projects and residencies, along with material-based explorations in the studio. Her national and international exhibitions, projects and residencies include: Vegetal Encounters Residency (2019-2021) UBC Outdoor Art Program, Quiescence (2019) Burrard Arts Foundation, A-Y with Locals Only (2018) AKA Gallery, Pollen Index (2016) Charles H. Scott Gallery, Till (2014/15) Santa Fe Art Institute, Moveable Feast (2012) Burnaby Art Gallery, Grow (2011) Other Sights for Artists' Projects. Schmidt is grateful to live and work in Vancouver, Canada, the unceded territories of the xʷməθkʷəy̍əm (Musqueam),Skwxwú7mesh (Squamish) and səl̓ílwətaʔɬ(Tsleil-Waututh) Nations.
Janet Wang is a visual artist and educator working within a traditional painting practice, integrated with sculptural installation practices and digital media. A second-generation settler of Chinese heritage, she is based in Vancouver, Canada, the unceded territories of the xʷməθkwəy̓əm (Musqueam), Skwxwú7mesh (Squamish), and Səl̓ílwətaʔ/Selilwitulh (Tsleil-Waututh) Nations. She received her Bachelor of Fine Arts from the University of British Columbia and her Master of Arts in Studio Practice from the University of Leeds in England. Her work explores the construction of identity through the appropriation and disruption of social patterns and familiar gestures.
Artist will be on site Wednesdays, Thursdays, Fridays and the occasional Saturdays. Stay tuned to learn about the work they are doing and opportunities to engage and explore over the next few months.
---
Irving House Restoration Work
Irving House was closed for restoration work from April 2-27, 2018, and reopened on April 28, 2018. The house's entrance and upper hall were restored to the late Victorian Period, revealing papers not seen since the mid-20th century. 
In 2009, while working with conservator Simone Vogel-Horridge, museum staff found original ca.1897-1903 papers in the entrance and upper hallway of the house — a 3-piece set of consisting of a wallpaper, 18" frieze, and a ceiling paper.  Last year, these stunning papers were meticulously redrawn and colour-matched by Stuart Stark, Heritage Consultant and wallpaper designer, to the original palette used in the house. They were then printed in England and shipped to New Westminster for installation. The hallway cornice work and entrance ceiling medallion will also be painted to match the original colour scheme as a complement to the papers.
This work is part of an ongoing multi-year project to stabilize and restore Irving House to its original appearance at the turn of the 20th century. Since 2011, Irving House has received a new fire and electrical system along with a state of the art geothermal heating and cooling system. The exterior of the house has also been repaired and repainted to match the original ca.1900 colour scheme.  In 2018, Ms. Vogel-Horridge returned to clean and restore the rare and original gilded 1887 wallpapers in the house's Small Parlour and will be returning this spring to do the same in the Large Parlour.