Alcohol In Parks
Adults are now able to drink responsibly within the designated areas in seven New Westminster parks:   
Grimston Park
Hume Park
Moody Park
Port Royal Park
Queen's Park
Sapperton Park
Westminster Pier Park
Alcohol consumption in these parks is permitted between 11:00 am until dusk, seven days a week, for those 19+. Organized gatherings require a Special Events Permit through the BC Liquor and Cannabis Regulation Branch. These locations all include washrooms.
Park User Responsibilities
Adults who choose to drink in the permitted parks are expected to manage their consumption, litter and act responsibly. All Public Health Orders related to COVID-19 as well as the provisions of the Provincial Liquor Control and Licensing Act must also be followed.
Please be responsible with your garbage and recycling and use appropriate bins for food and containers. Ideally, pack out what you pack in, and keep our public spaces clean for all to enjoy.
Alcohol Allowed Zones
Alcohol may only be consumed by those aged 19+ within the boundaries of the permitted areas.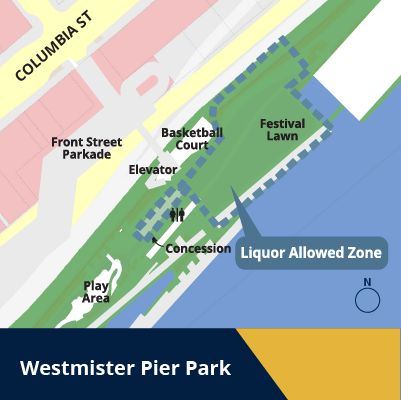 Bylaws
Consumption of Liquor in Public Places Bylaw
Contact
For more information, or to report a problem, please call 604-527-4567 or email
In September 2021, the City of New Westminster will be collecting feedback from the community on their experience with the pilot program. Stay tuned for more information.