Cemetery Services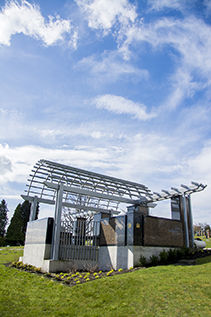 The Fraser Cemetery occupies a spectacular site overlooking the Fraser River making it an ideal setting for quiet contemplation and reflection.  The cemetery underwent a recent enhancement which saw the addition of a columbaria niche wall, ossuary and a unique water feature.  Future enhancements are in the planning.
The Fraser Cemetery was established circa 1870.  It is the final resting place for a number of the City's pioneer families as well as notable personalities such as John "Gassy Jack" Deighton, Captain William Irving and Raymond Burr, just to name a few.

Services which are available at the cemetery:
Cremation burial
Wall niche - cremated remains can be placed in a niche in the wall with a unique water-cut aluminum plaque memorializing the individual interred.
Ossuary – an in-ground communal vault in which cremated remains are interred (and thus irretrievable) and the individuals name is etched into the granite wall for memorialization.
Memorial benches
Our experienced, friendly and caring cemetery staff are on site to maintain the grounds and provide a high level of customer service at the cemetery.  They are available Monday through Friday, 7:30am – 4:00pm. (excluding statutory holidays).  For planning assistance, plot location and other related information, please call the cemetery office at 604-522-1323.  Should you be asked to leave a message, we would ask for your patience as staff may be with a family or out on the grounds and will return your call as soon as they are able.
Cemetery Map

Virtual Tour of Fraser Cemetery
For more information or comments, please call Engineering Operations at 604-526-4691
or email .