2020 Water Main Replacement Program
Background
The annual watermain upgrade and replacement program is aimed at ensuring that the City's watermain infrastructure is maintained and upgraded in order to meet the needs of the community.  Projects are selected and prioritized to reduce the number of watermain breaks, the number of service interruptions for customers, and water loss.
Watermain breaks can cause significant damage to adjacent utilities, private property, and roads. They also disrupt service to customers, compromise fire-fighting capability, and can cause contamination of the water supply system. As the watermain approaches the end of its life span, the likelihood of a break increase. Every year, the City of New Westminster reviews the watermain system and determines which watermains need to be renewed and are scheduled for replacement on a priority basis. Water and sewer renewals are coordinated with other street work to avoid road interruptions as much as possible.

Construction Disruptions
Work is currently taking place on Tenth Street  between Tenth Avenue and Fifth Avenue
| | | | |
| --- | --- | --- | --- |
| Project Task | Location | Duration | Impact |
| Watermain Replacement | Tenth Street between Tenth Ave. and Fifth Ave. | July 1 - October 12, 2020. Weather dependent. | Traffic will be maintained. Temporary road closures and traffic delays. Alternate access points will be provided and advance notice will be given. |
Due to the nature of the work, there will be some minor interruptions. The contractor will be blocking off a section of the street with yellow caution tape and signs. We ask that residents and visitors not park in these areas. 
Residents of affected households and businesses will be notified at least 24 hours in advance of these interruptions.  Access to some driveways and street parking will be impacted due to the nature of the work. Contractors will have steel plates on site to span a trench if access is urgent during the day. The trenches will be backfilled on a daily basis.  We will endeavor to minimize disruption as much as possible. However, as with a project of this nature, some disruption is inevitable.  If special consideration is required, please contact the City's project manager.
Why is my water cloudy or murky?
As part of the water main replacement project, you may notice your water is cloudy or murky. This is caused by minerals, sediment, rust or air bubbles that accumulates in the water mains.  When the water from your tap is cloudy or murky, this indicates a disturbance in the water main that stirs up these deposits.  Usually, the water will clear on its own within a few hours. The most common reason for residential cloudy or murky water is from recently replaced water pipes, water main flushing and hydrant servicing. 
Change in water properties (i.e. colour, smell, etc.) happens because rust becomes dislodged from the water pipes and finds its way into your home water supply.  The pressure in the pipes change during repairs.  If there's a drop in water pressure or when the water is switched off and back on again.
If you experience cloudy or murky water, run the cold water from your tap for about 20 minutes.  If your water is still cloudy or murky, please call the City to inspect the pipes and they can flush out the water using a fire hydrant. If after this is done, and cloudy or murky water is still appearing then you will need to inspect internal plumbing system.
 
Project Maps
Click to enlarge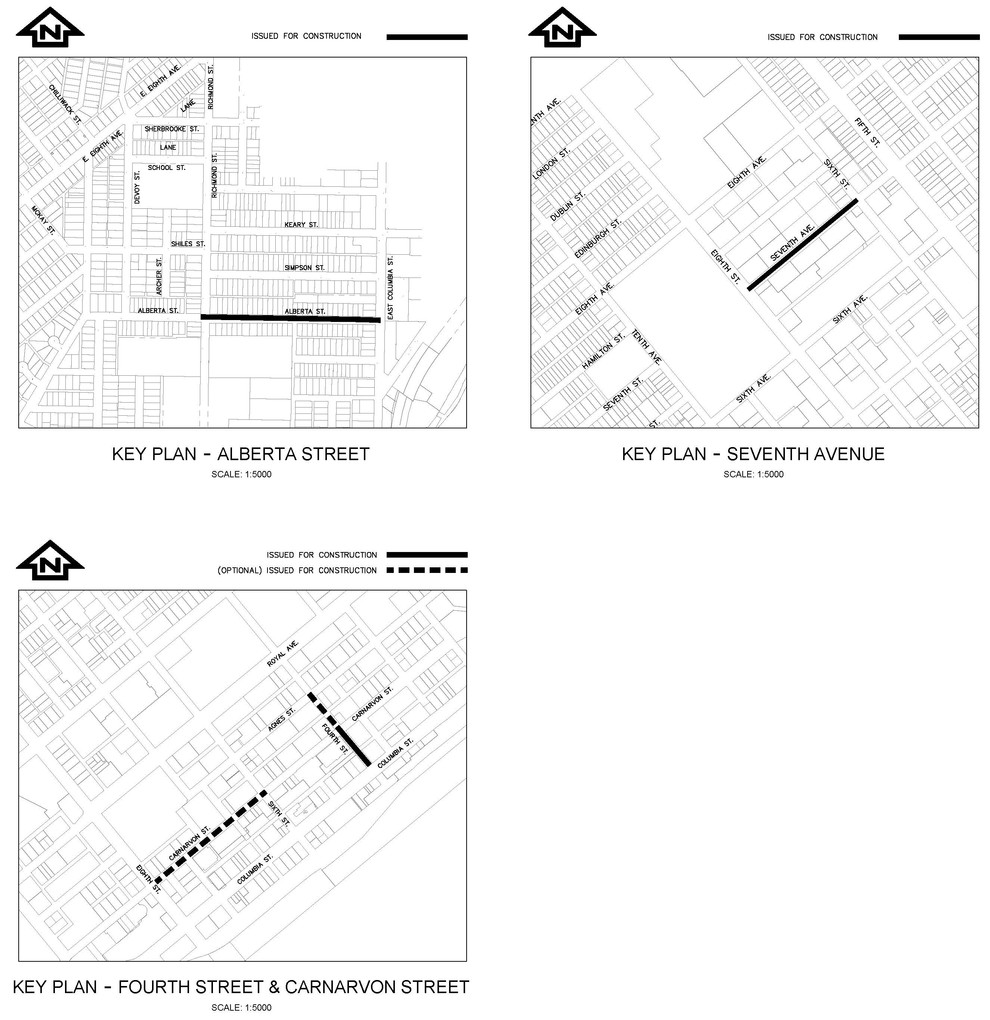 Please note that this project will be phased over the course of the year in coordination with other projects taking place in the area. 

Water Meter Setters

As part of the watermain replacement program, new water meter setters will be installed on the water service connection near the property line. A water meter setter includes a single check valve that prevents any backflow from a private property to the City's watermain system. 

As a new setter creates a one-directional system, there is a possibility that the water heater pressure from thermal expansion may cause damage or leaks in an internal plumbing system, particularly if the plumbing system is in poor condition or state of repair. It is recommended that homeowners consider installing a thermal expansion tank or a thermal expansion control valve as an added measure of protection. 

For more information, please read the Water Meter Setter FAQs. 

Contact 

Should you require further information regarding the watermain replacement program, please contact Amir Aminpour, Engineering Projects Manager, at 604.515.3796 or by email at